Last week I went to
Foster Farm's Produce
up in Arlington to spend the morning with my adorable two little nieces, my lovely sis-in-law Stephanie and my brother Brandon.
Kayla is hitting the 4 foot mark here while her sister.....
Kai Lil' is getting sooo close to the 3 foot mark!

We are still working on Kai being comfortable around me. Each time I visit she seems to like me a bit more. I found that if you bring presents she is much more likely to like you! Smart lady that one!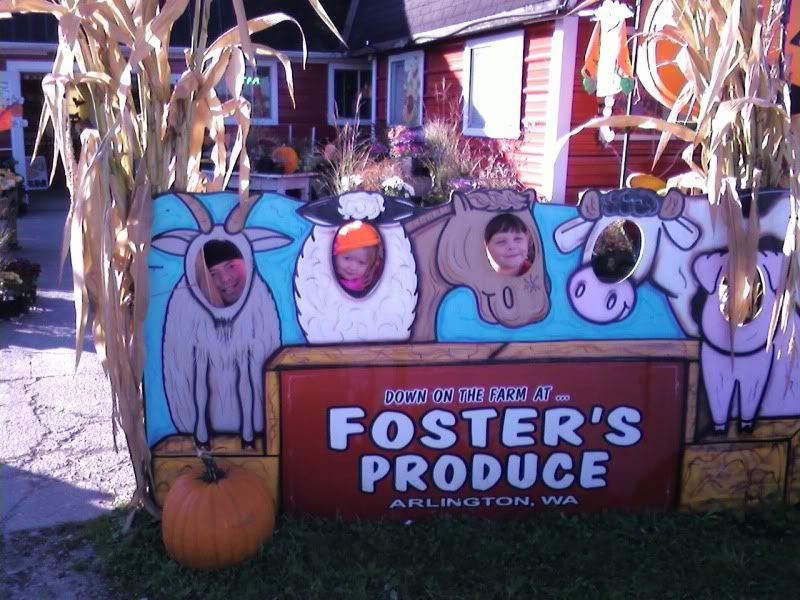 Brandon, Kai and Kayla had a bit of fun as farm animals!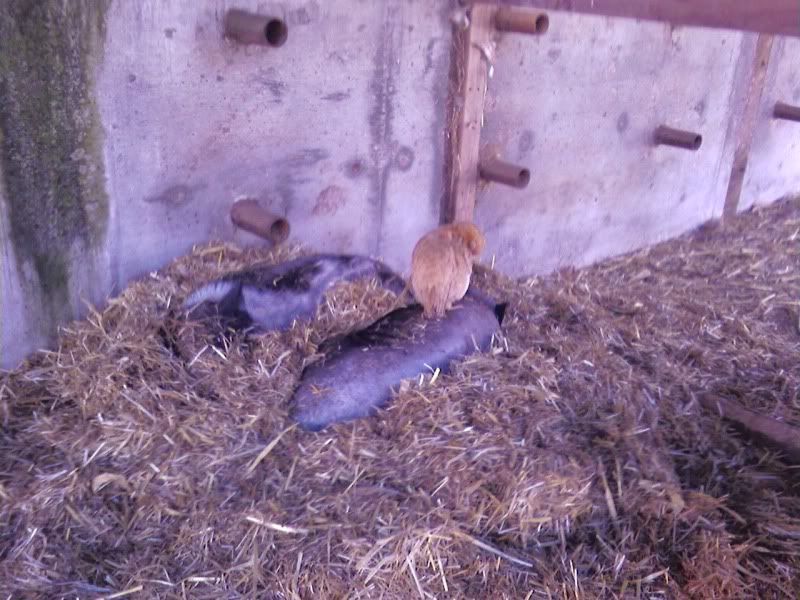 It was still too early for the sweet little piggies to be up and playing. The Chicken was smart in keeping her feet warm on their backs though!

They had a small little hay maze for $1 per person that ended up making me and Steph sweat. I think we were so early in getting there that they hadn't gone around and cleaned up since their Saturday rush. The hay stacks were all falling over and blocking the paths so Brandon watched on while we struggled to pave out a path for the lovely little damsels.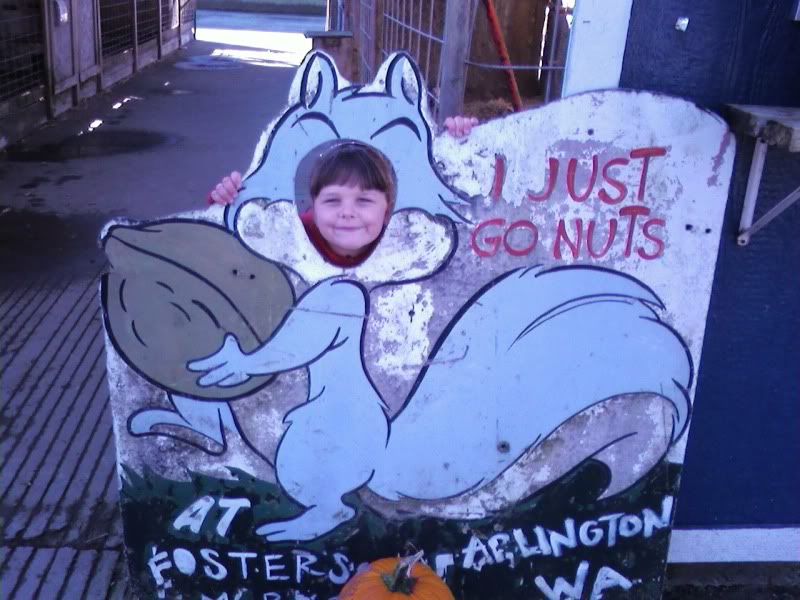 Kayla decided that she was going to "Just Go Nuts"
After our romp thru the hay and peak at the animals we went on down to the Charlie Brown pumpkin patch to get some pumpkins. Somehow the pictures I have of the ladies and their loot has vanished from my phone! The girls had fun though with Auntie TT (me) pushing Kai in the wheel barrel and Kayla leading the way where she found the pumpkin slingshot stand!!
Kayla came the closest to hitting her ghost! Only a few feet away!
After all of us doing the slingshot and picking our pumpkins it was time to conquer the corn maze!! I have done a million of these things and every time I get frustrated and just start running thru the corn in one direction to find my way out. We had Kayla as our navigator and I thought it would be hours until we found our way out! We had to find 11 'clues' that they had posted all thru the maze and mark it down on our sheet, which didn't help my thoughts on our outcome!
Kai was stylin' with my fabulous pumpkin beanie made by
Marin
!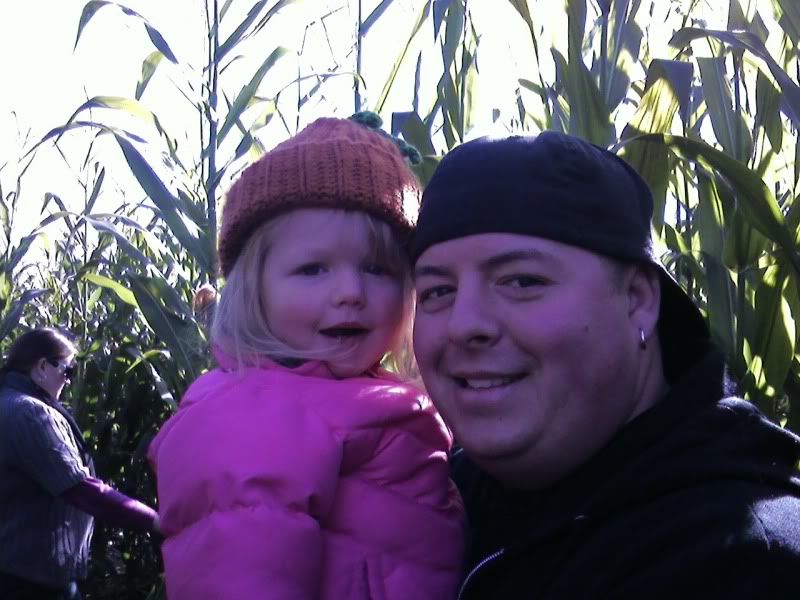 Kai and her proud papa!! My bro makes good looking kids!
With Kayla paving the way we actually did pretty good! I think we made it out within an hour and found every clue! We started to get a few tantrums so we got smart and started breaking up to run down dead ends and find the last clues! it worked out perfectly!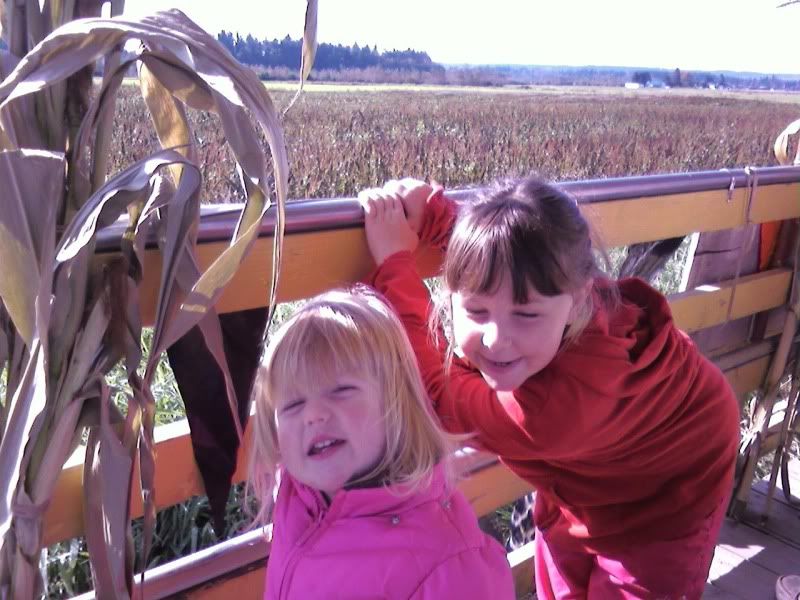 The little cheeseballs on the hay ride with auntie tt!
After the maze, me and the girls hopped on the tractor for a quick spin around the farm. Kai loved every second of it and Kayla was the perfect big sister making sure Kai was safe! Afterwards we all headed out to a quick lunch before Bran had work and I had to go meet the boy for some shooting out in the woods!! All in all a fabulous day and made that much sweeter since Kai let me love on her!! 
Oh and be sure to check out the link in the post below this for the video of the amazing goat that was there!!